Our Commitment To You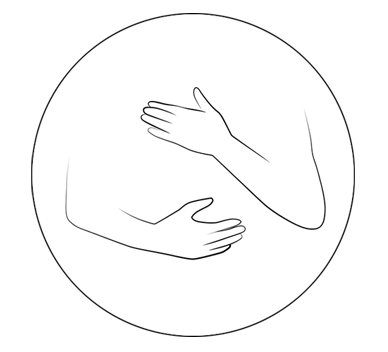 Here at Self-Care Is For Everyone, we treat every interaction as extremely meaningful and an opportunity to share in positive energy and celebrate the kindness that is being exchanged.
Every person that positively inspires and supports our work, from employees and collaborators to each member of our community online, means a great deal to us and represents a relationship worth preserving.
We aim to lead with high ethical standards and would like to share with you how our clothes are created and our vision for how we see ourselves growing in harmony alongside our community.

What started as a series of conversations...
Self-Care Is For Everyone manifested from conversations amongst family, friends and community revolving around mental health struggles that had left us feeling stressed, overwhelmed, and alone.
Through continued dialogue and mutual encouragement, we realized a commonality: a shared need for ongoing reminders and meaningful conversations that promote healing and empowerment by the sharing of self-care tips and practices and encouraging one another to be kinder and softer with ourselves.
From here, we decided to start our own little community on Instagram under the handle @selfcareisforeveryone (which as of this writing has 850k+ members in it!).
Our vision for the platform was simply a space to share kind messages and self-care reminders, while hosting brave and vulnerable conversations around different mental health and life struggles.
As we grew, we wanted to integrate ourselves into the community and be of even greater service to these conversations, so we opened up Self-Care Is For Everyone, our online destination that serves as both a marketplace for self-care reminders (on clothing, bags, posters and other inventory) and an ever-growing hub for accessible self-care tools and resources.
Ensuring our products and resources are accessible in terms of price and meeting our community where they are, has been a focus of ours since we launched. We started by sharing the work of talented, independent artists to our instagram. Their artwork allowed us to foster brave conversations online and so it was a no-brainer decision to invite those talented members of our community to submit their work to Self-Care Is For Everyone, the online marketplace of self-care reminders.
When an artist submits their work, they retain the full exclusive rights to, are credited on each product listing and social media post they're featured in, and receive a royalty for each sale that one of their designs account for. In large part, we wouldn't exist without their contributions and so it became important for us to champion the independent artists leading these conversations through their beautiful work.
On the flip-side, we knew it would feel wrong to us to create work in this space, revolving around these conversations, without directly contributing to nonprofit organizations that are doing the heavy emotional work on the front lines of their respective communities to help improve the epidemics that are depression, anxiety, self-harm and suicide.
It was for this reason that we commit 10% of our yearly net profits to the fine folks at the National Suicide Prevention Lifeline, who are helping to prevent suicide through 24/7, free and confidential support for anyone in distress (via 1-800-273-8255).
Not wanting to limit ourselves to just one organization in this fight, no matter how wonderful in this case, we have also partnered with organizations such as NAMI, NEDA, and AFSP on social media campaigns and product collaborations, and are committed to continue innovating, forming relationships, and becoming even more creative and more collaborative when it comes to the battles against mental illness and suicide.
Produced in-house as a labor of love
As with any organization, there's a lot of unsung heroes in ours that put hours of love and labor into getting these messages out, both online and then directly into your hands whenever you order from us. We like to caution that when you order from us, your order may take upwards of a week to get to you. Often, we're able to get orders out next day, but it's simply impossible for us in times of high demand and that's because we print each item you see in our site on-demand.
When you place your order, it winds up getting printed onto a sheet of paper along with the rest of the orders placed from that same day. From there, it arrives at our picking station where one of our teammates picks the blank garment from one of our shelves of inventory. From there, a sticky note is handwritten and placed on it to indicate which design needs to be printed on it and which order it corresponds to. (See below)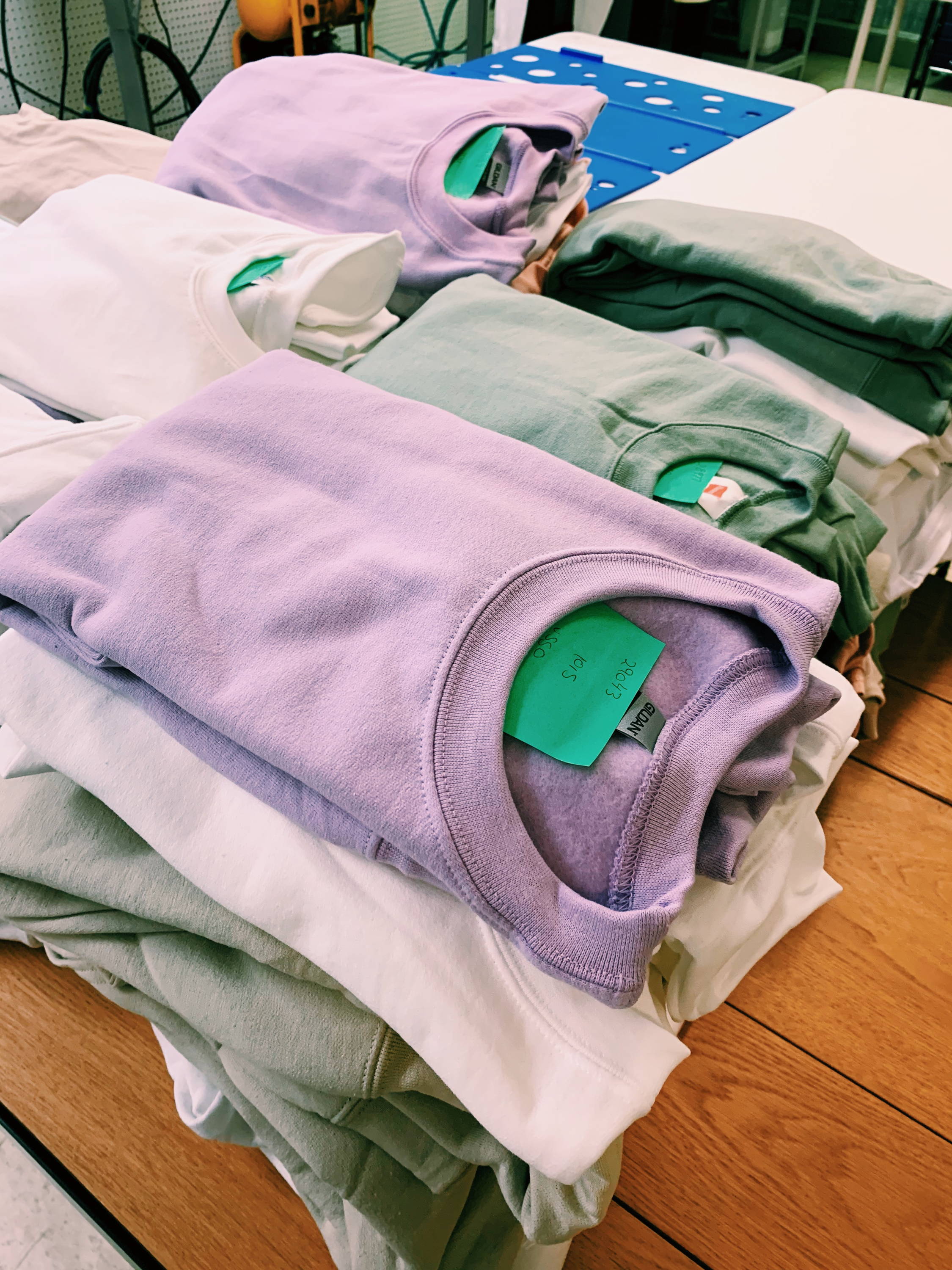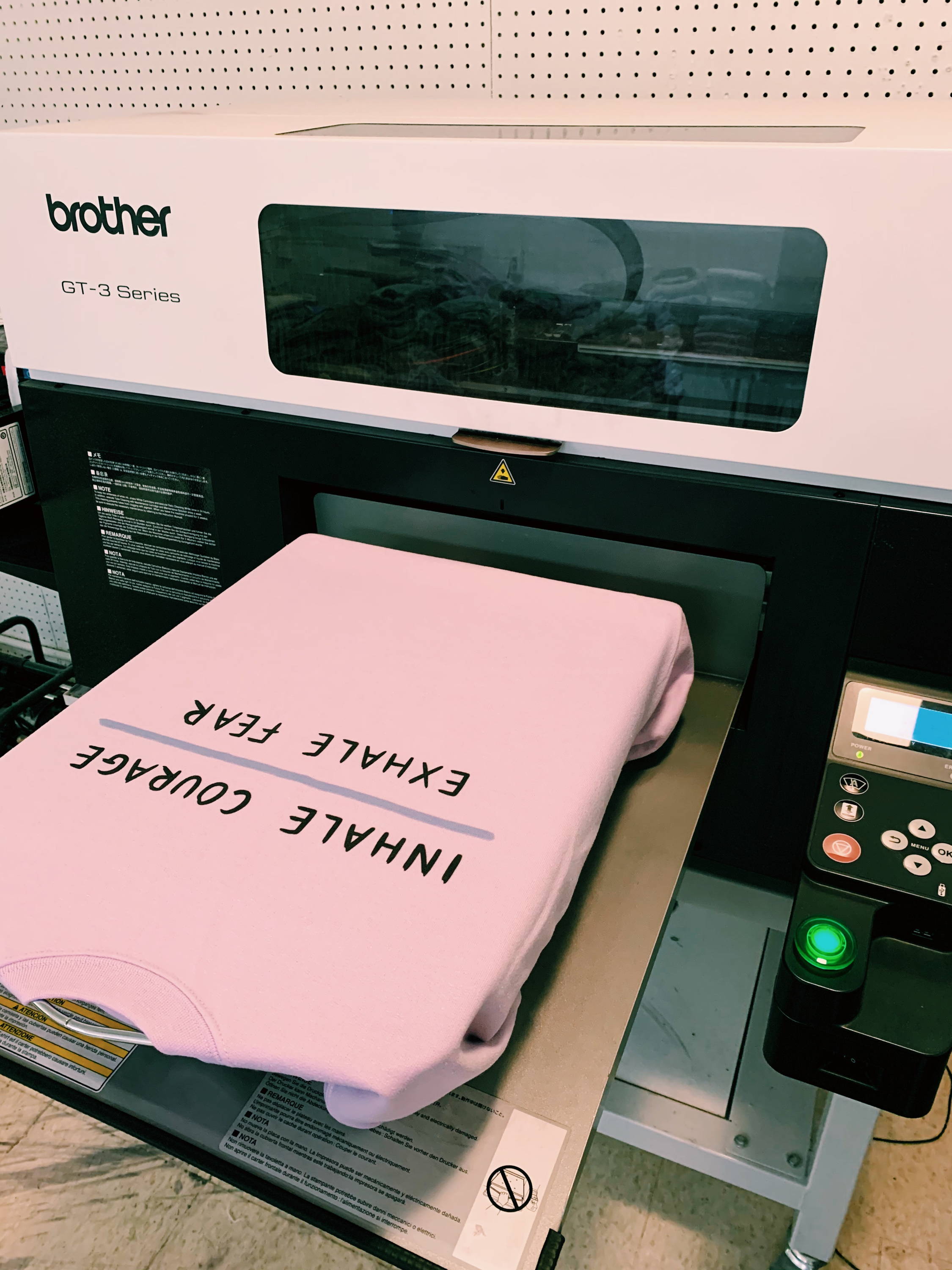 From there, it reaches another one of our teammates over in the print room. This is where the magic happens. Thanks to direct-to-garment printing technology, we're able to print the design you ordered onto the garment that you specified. From there it gets dried on a heat press, folded, and brought back to a teammate now waiting to make sure that the items in your order get packed together before reaching its final step of receiving a printing label and winding up on the truck of the USPS carrier on our route.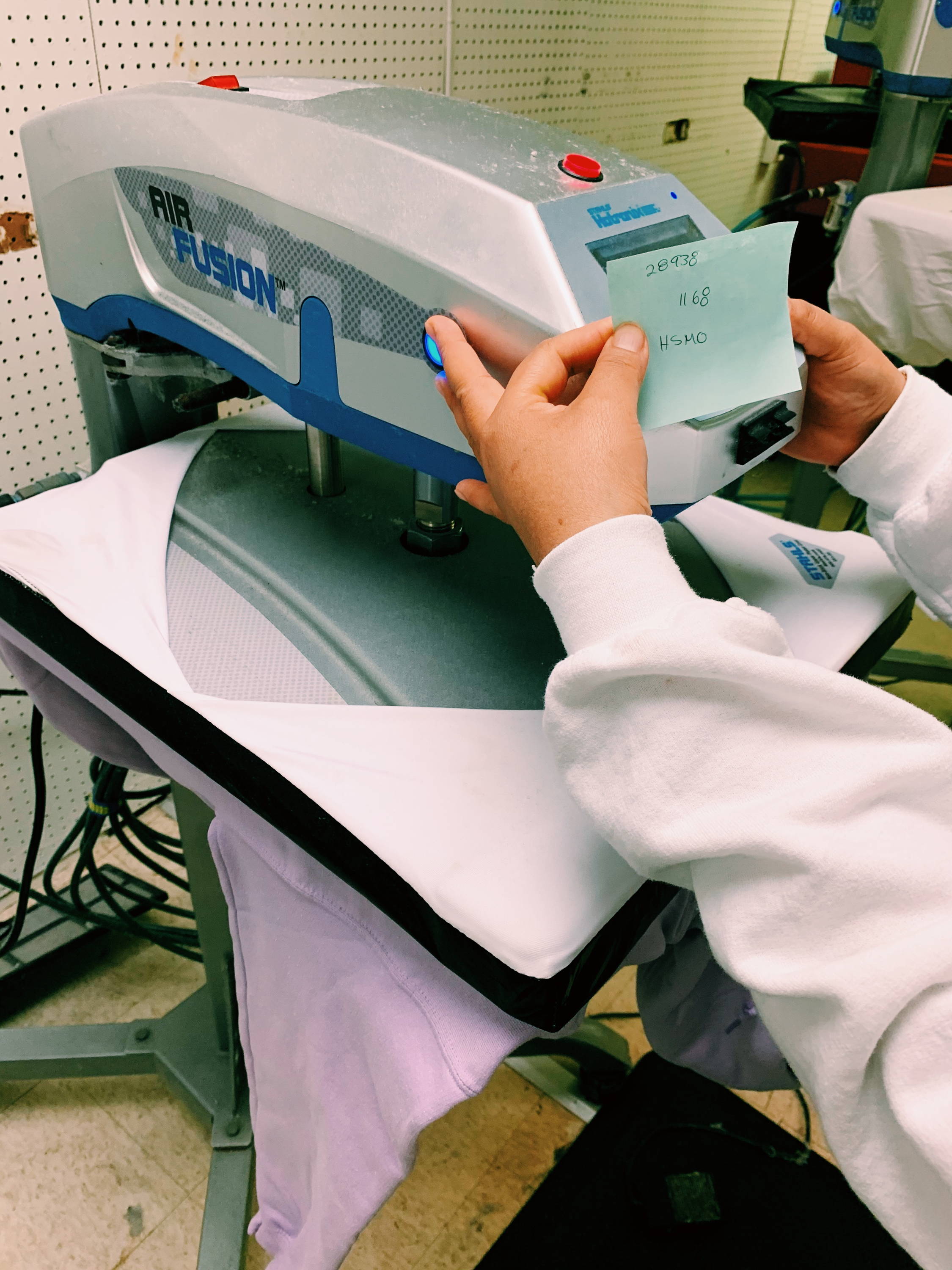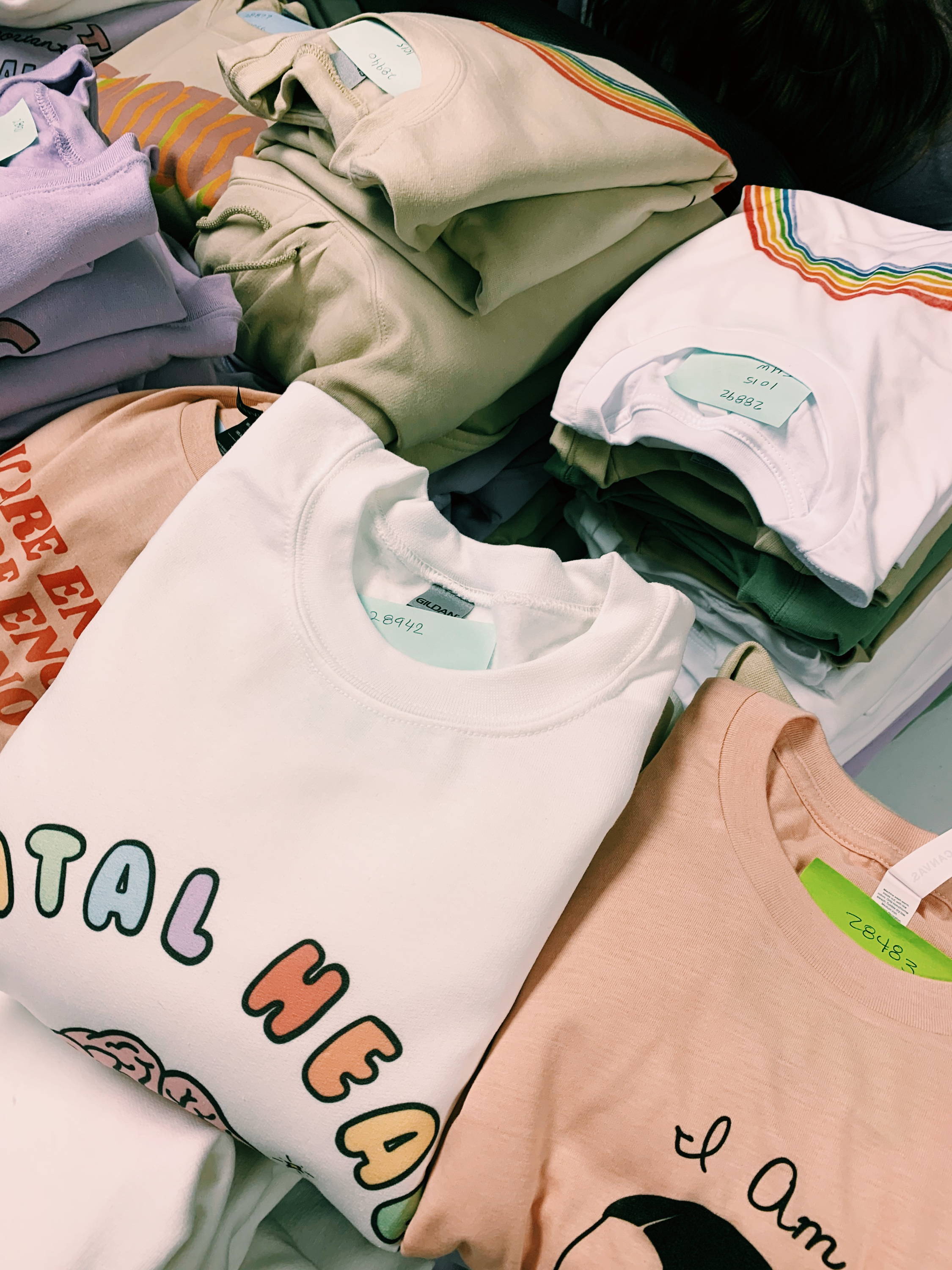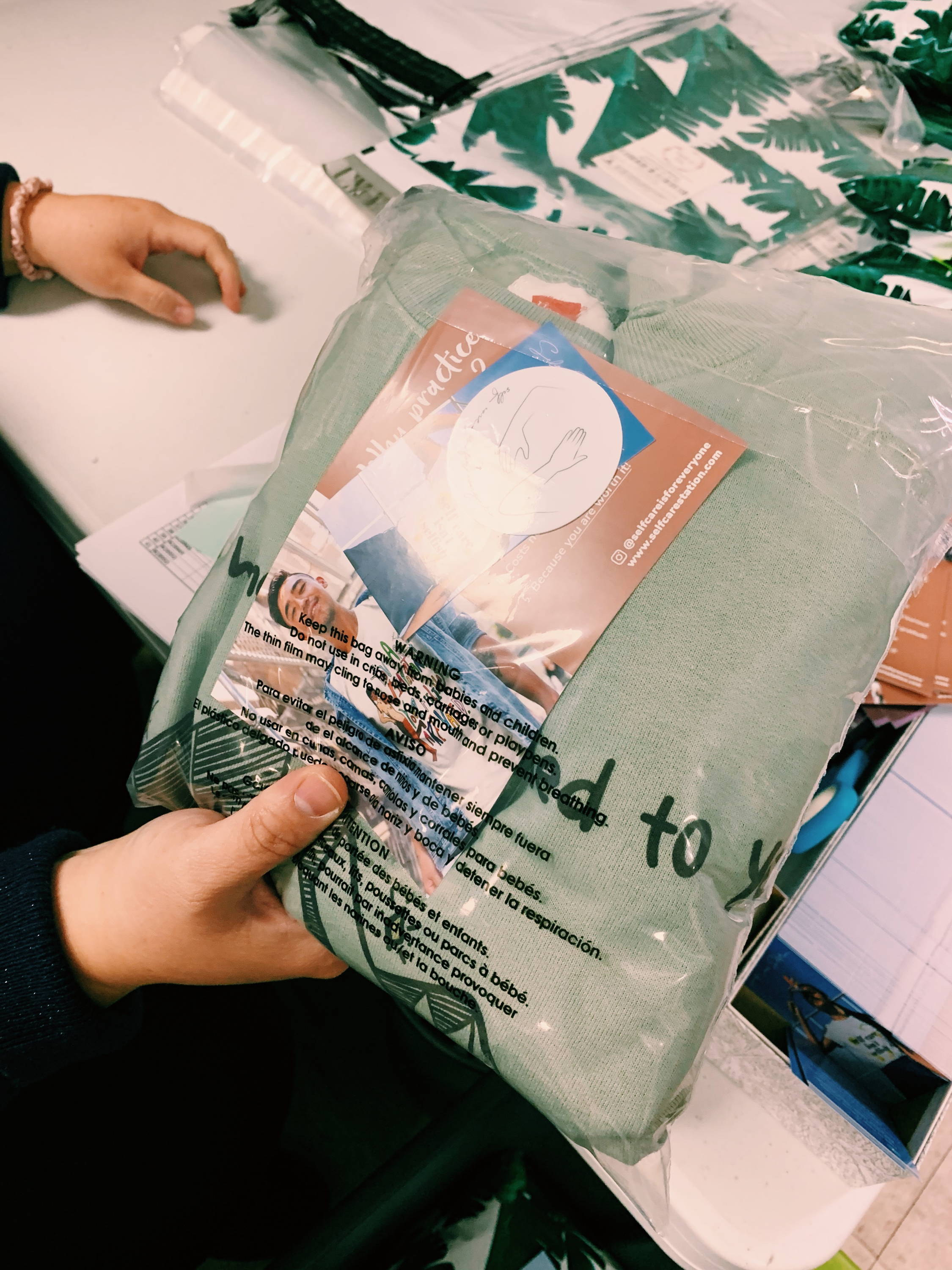 We do this every Monday through Friday from 8 AM to 4 PM at our production facility in Somerdale, NJ & we like to do it well because we realize from our interactions with our customers and supporters (and our reviews) just how much these reminders mean to you and how much of an impact you're making with them!
What's next for Self-Care Is For Everyone?
Honestly, so much. Our team here is so excited by what this community has grown into and that also gives us an added sense of responsibility to continue growing alongside it.
That means that you can expect more content on our blog and through our social media channels, more resources that you can put to use right away, more collaborations with independent artists and nonprofits, innovating into new products and services that continue to allow us to serve you and the rest of this community in even greater ways.
We feel so indebted to you for allowing us to call Self-Care Is For Everyone our source of work and we hope that you will continue to be pleasantly surprised by the places we take this project in the years to come. We are grateful for you, we see you, and we honor you.
Thank you for allowing us into your day.
With open hearts and kind intentions,
All of us here at Self-Care Is For Everyone
@selfcareisforeveryone