What would happen if you didn't buy gifts this year?

What would happen if you didn't buy gifts this year?

(Free Downloadable 'Letter To a Loved One' Included In The Blog!)
(Free Downloadable 'Letter To a Loved One'
Included In This Blog!)
Seriously.
Like an unforgiving pair of jeans on turkey day, 2020 has created pressure in places we didn't know pressure could exist. And as the holidays approach, many in the Self-Care community have remarked that the prospect of crawling into their metaphorical sweatpants (i.e. easing the pressure) seems like a far-off dream.
How about you? Are you feeling the pressure to show up (in person or virtually) in a space where you don't feel entirely safe, the pressure to look the same (or better) than you did when quarantine began, the pressure to not discuss politics, the pressure to discuss politics, or — deep breath — the pressure to spend money you don't really have right now to 'show people how much you love them'?
We feel you and we hear you.
In this post, we invite you into the self-care practice of courageously looking at what is really going on, finding honesty and compassion — with ourselves and others — and then getting creative in choosing how we want to celebrate this moment, in a way that aligns with our hearts, our current finances, and the future we are calling into possibility.
Oh, we know. We are aware of the irony. But really, it's more like ironesty (irony + honesty: it's a thing).
Self-Care Is For Everyone started out as a garment company, and the sale of our reminders is what enables us to continue to do what we love, every day. Every time you purchase a reminder from our store, you not only support us in continuing to create for this community, but a portion of your purchase goes directly to our partners in mental health advocacy. In just two years, we've been able to pay out over $120,000 to the independent artists we collaborate with (and whose work you see on the products themselves), nonprofit organizations like the National Suicide Prevention Lifeline and NAMI, and therapists (our Black Mental Health Matters Initiative saw 9 therapists across the US receive $1,111 each in order to subsidize therapy sessions for new or continuing BIPOC clients who could use the added financial support during these difficult times).
But our reminders (and our company, for that matter) were always intended as a means to an end, not as the end itself. Our vision is to help manifest a kinder world where everyone —regardless of identity, race, economic status, or background — is afforded the same right to community, empathy, and healing. Our mission is to help create that world by making self-care and healing resources, reminders, and experiences more accessible and, for everyone.
In short, we strive to provide you with an experience and with helpful resources that can turn Self Care Is For Everyone into your metaphorical sweatpants: a space where your whole self can come to feel embraced, whether you're actively looking to make a purchase or simply want a safe space to hang out and look around for a little while. That's why we put so much love and care into the creation of our content — our live interviews, our blogs, our Instagram feed, and our free and accessibly-priced downloadables (click here for our free World Kindness Day downloadable from last week). The truth is, we appreciate you being here and spending this time with us, whether you go on to place an order with us or not.
And your friends and family probably feel similarly. They don't need you stressing out about gifts for them if that isn't serving you right now and if you have more pressing things going on in your life.
Holidays in 2020: Reclaiming Love
This is an invitation to shake things up a bit, and possibly discover something important about ourselves in the process. When we practice the self-care of looking at this moment with honesty and non-judgment — including its difficulties — we give ourselves a truly wonderful gift: we empower ourselves to choose how we respond. And that — choice by choice — is how we reclaim love.
Fact: the holidays can be a complicated time.
Even before the global pandemic (and social justice protests and ongoing natural disasters and heightened election season) that 2020 has unfurled, conversations with extended family members could be a bit... shall we say interesting? And for some of us, the holidays aren't just uncomfortable, they're downright painful. So if you've noticed that a large part of you is actually relieved to find yourself freed from your normal holiday plans, don't feel bad; you are not alone.
Also Fact: the holidays can be wonderful.
The holidays can be a time of slowing down and connecting to ourselves and others in ways that are very nourishing. There is an element of ritual and returning to our roots, and there is the laughter, the expressions of care and creativity through food and gifts, and the gratitude, appreciation, and love. It's as if the holidays are a signal to our society that it is okay to be humans (as opposed to productivity machines) and to pause and reconnect with things that feed our bodies, minds, and souls.
So if you feel sad when thinking about how different the holidays will be this year, you are also not alone.
The question is, what are these feelings trying to tell you? If you are relieved, is it possible that you had to act in past years in ways that weren't healthy for you? If you are feeling sad, will you really miss the bloated post-turkey (or Tofurkey) experience, or is it the time spent with loved ones that you crave?
Instead of suppressing feelings, or living in denial of our current reality and putting our loved ones at risk, what if we embraced the courageous self-care practice of acknowledging our grief? And even if you do not personally feel grief right now, do you feel as though you're able to hold space for those in your life who may? Some of us have lost jobs, others a sense of feeling safe or accepted in our community. And some of us had to say goodbye to loved ones. In ways that hurt. So unbelievably much.
There may also be grief in acknowledging that, for those of us in the US, a Thanksgiving holiday that may feel dear to our heart also glosses over a very real history of violence, land-appropriation, and discrimination against First Nations People. Perhaps you have felt the whisper of this grief for years but always pushed it down so as not to make your family or friends uncomfortable. But what could you learn, and honor, and even begin to help heal if you opened to the grief and allowed it to change how and what you celebrate for Thanksgiving?
In a society that asks us to constantly do more, be more, know more, have more, and always be ok, we are not often encouraged to honor loss or make space for grief (ours or others) — and because of that, we aren't always the best at being vibrantly alive, either.
This moment is shaking up our habitual ways of doing things, allowing us to look and see what truly matters and to distill from the mess of expectation an essence of what it is we truly love.
Will you miss your father's pie, or is it seeing him feel appreciated as he offers his family love in the form of a pie that you will actually miss?
Feel. Be curious. Listen. Grieve or honor. Distill.
And then...
Celebrate the possibility.
There is a spaciousness that we come to on the other side of grief, a spaciousness where new possibilities begin to sprout. Let yourself engage with these new possibilities from a place of play. If things don't have to be as they always were, how would it look to share the holidays in a way that actually feels aligned with your values and extends your practices of self-care to those you love?
Ask yourself:
What would bring me joy as I celebrate and honor what the holidays truly mean to me?
What would bring joy to those I love?
Where do those two circles overlap?
Let's start from here.
Need ideas for your 2020 holiday gatherings?
Just because you can't be together doesn't mean you can't be 'together.' Let's plan out a virtual gathering! (Zoom is lifting its 40 min limit for Thanksgiving.)
But it's awkward! Yeah, maybe a little. And you're probably not alone in feeling that way. That's ok. It can be awkward and still be sincere, heartwarming, and even fun. Ask an older relative to teach everyone how to make their favorite Thanksgiving dish over Zoom. Our elders will probably be the least comfortable in virtual spaces AND also feel the most alone during this holiday season. Asking them to share their favorite recipe or story might put them a bit more at ease in a virtual gathering and will help them to feel appreciated as they share what they love.
 
Don't know what to talk about? What about virtual games? Karaoke? Check out this Thanksgiving Virtual Care Package from the Family Dinner Project for some fun ideas. There are also online versions of Bananagrams, Cards Against Humanity (search for it on Playing Cards), QuizUp, or Heads Up via Houseparty. And for those of you who binged The Queen's Gambit and now think you are grandmasters, maybe challenge a relative to a game of Chess.
 
Don't know what tribal land you are on? Download the app Native Land to see which First Nations Peoples once lived where you do now, and to learn more about their history and culture. Share with your family. Discover which land family members are on. With kindness and curiosity, start a conversation. Many — especially our older relatives — might be resistant to acknowledging the history of violence, forced migration, and suffering forced upon the First Nations tribes by the American government; if you notice resistance, can you meet their denial or fear with kindness? Hearts are not changed by shaming (and we are only displacing our own guilt and grief in the process). This conversation may take years; plant seeds to encourage curiosity and honor those that came before. Humility can be fertile ground for solidarity.
And about that not buying gifts thing...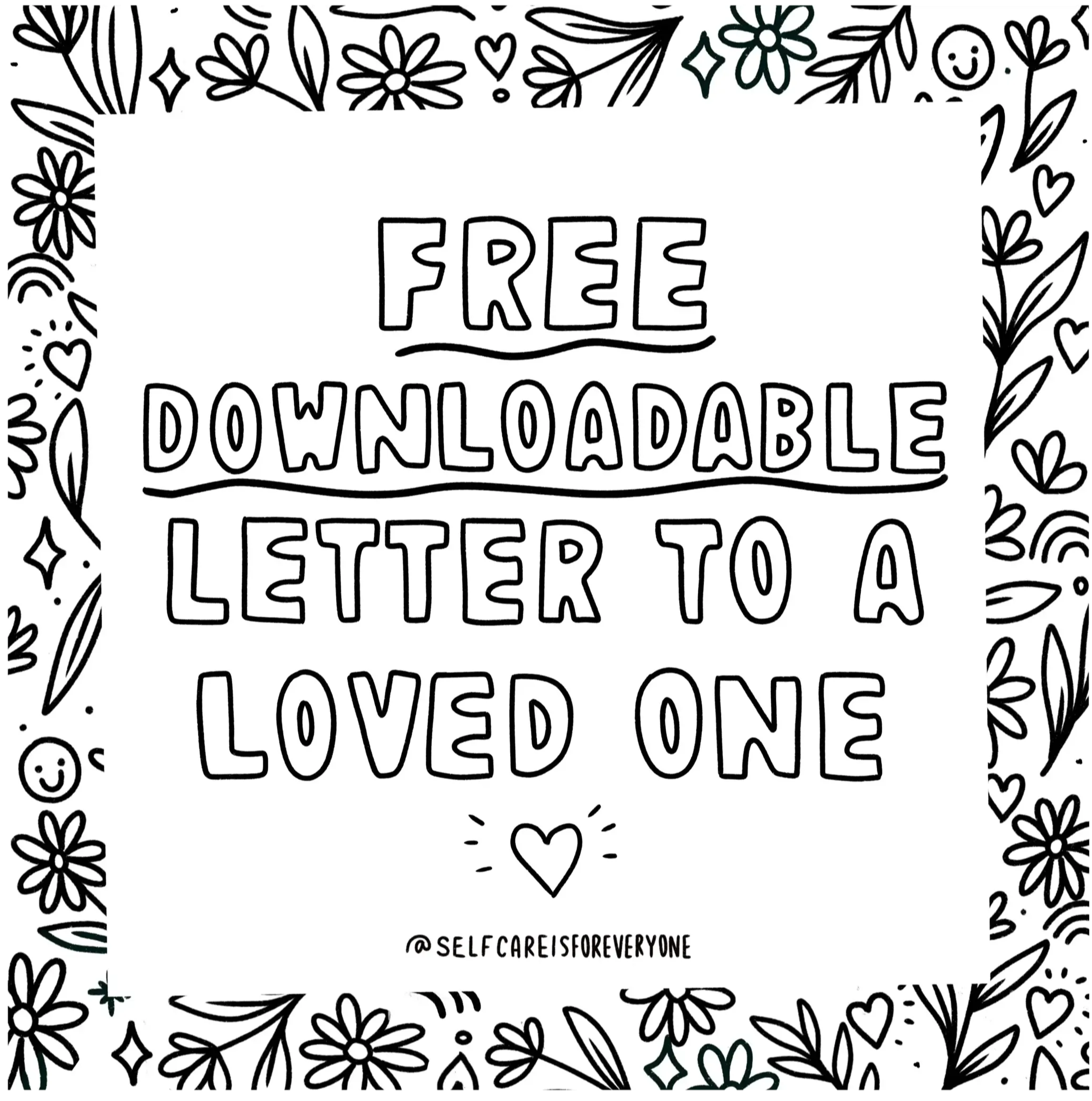 The most meaningful, valuable gifts that we can give will be those which are expressions of kindness, connection, and love. Let yourself get creative. Home-cooked food is a wonderful way to tell people you love them. If you're artistic, try drawing or painting beautiful cards and then fill them with personalized messages of gratitude. If you're musically inclined, why not build your loved ones individual playlists, or maybe even write them a song? If your talent is more in the art of please-don't-make-me-do-anything-artistic, try writing a heartfelt letter to your loved ones, sharing with them what you admire about them or a time when they inspired you or helped keep your spirits lifted. Need a little help to get you started? We've got you covered! Check out this week's free downloadable (Letter to a Friend) complete with prompts and illustrations waiting for your words.
Time spent and love shared cannot be bought. So if you're not feeling up to traditional gifts (and gift-buying) this year, spend your time coming up with little ways you can still spread the love.