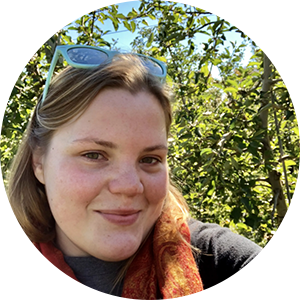 Callie Garp (she/her) incorporates her passion for intersectional feminism and gender studies with her love of creative expression and problem-solving in her brand, Fabulously Feminist: Art For Social & Eco Justice. She creates social justice artwork at accessible prices for the communities that need it most. Callie runs this handmade endeavor from her small home outside of Pittsburgh, PA, with the assistance of her wife, Gena, 2 senior dogs and 4 rambunctious cats.
How did you start making art that empowers people?
I went to college and graduate school for fine art, but focused heavily on social justice and intersectional feminism while I was there. While I investigated social practice and other methods of art making that engaged with the issues I was most passionate about, I personally struggled to fit my aims into the gallery space of a fine art practice. Instead, I decided to focus my energies on creating work that could be financially accessible to as many people as possible, and that would give visual expression to the conversations we're having around mental health and social justice.
What do you do to self-care?
Art making, for a very long time, has been my most powerful form of self-care. Now that it's tied up in how I engage with social justice and also seek to earn a living, that self-care practice has become a bit more complicated. However, in its place, I have re-invested in my passion for gardening. Spending hours working outside with plants, or watching gardening shows while I dream up the garden plan for next year has become my ultimate form of rejuvenation and self-care.
SHOP DESIGNS BY CALLIE GARP