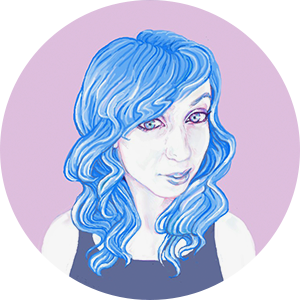 I am a self-proclaimed mental health enthusiast who happened to start venting about their mental health through art. As someone who struggles a lot with stress, anxiety, and being numb, art helps fill in the gaps. It allows me to tap into the things that are hiding below the surface and it has created a communication system that really helps me take care of myself. I think it's important to not only promote healthy coping mechanisms like art, but also the fact that our brains are always malleable and it's always possible to change and heal.
How did you start making art that empowers people?
It wasn't until 2017 when I found myself feeling randomly anxious in a Behavioral Statistics class where I drew an illustration of the scenario and laughed at the absurdity that was my anxiety. I dropped the class shortly after that and spent the rest of the summer making art based on my emotions and mental health. It felt like I was somehow able to give a voice to a part of me that I couldn't comfortably open up about through other outlets and to my surprise, other people seemed to resonate with those things as well.
What do you do to self-care?
One thing that is absolutely vital is that I need to spend a lot of time outside. Now it's gotten to the point where it's non-negotiable no matter how many times I think I can talk myself out of it (I've tried). There's something about being in nature, whether it's by the ocean, a park, etc. It really helps me decompress to have some alone time outside.
SHOP DESIGNS BY JULIA ROSE