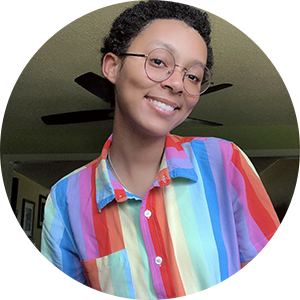 Hi, I'm Kyleen and I'm studying botany and astronomy. I am from the US, but decided to leave my home state in search of new things. I struggle with bipolar depression, anxiety, and PTSD resulting from experiences with sexual abuse. My recovery journey has been a long one, with a lot of challenges along the way, and I'm just getting started. After my experiences with assault, my perspective of the world took a full 180, and I've been trying to right it ever since. I want to look at the space I live in healthily, rather than living in fear, pessimism, or anger– and want to help others do the same.
How did you start making art that empowers people?
I started my art at the end of the first year of university. I've struggled with my mental health for a little bit, and wanted to show people how real it is, but how beatable it is. We all have our poor mental health days, but it's so important to be able to talk about it and get the help you need without feeling bad about it.
What do you do to self-care?
For self care, I usually head for an art! Whether it be for drawing, painting, or music, I find something to do with myself that is constructive. It honestly is so therapeutic.
SHOP DESIGNS BY KYLEEN NIXON