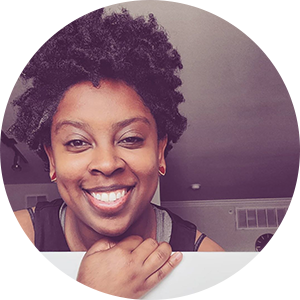 My name is Ashley Price, however I am mostly known by my alias Pinklomein. This fun, crazy and weird name that I came up long ago has now become a big part of my life as a self-taught visual artist. I started as a young child playing around with crayons, watercolor paints, and pencils. I always knew I had a knack for art, but I didn't realize how much I would grow to appreciate it until I quit my full-time job. 2014 is where my journey as a full-time artist was born. I began painting all the ideas that cultivated over the years. I started painting pieces that reflect me and the people around me. I love using bright colors and bold lines to reflect the beauty of women. My art is a mirror reflection into my soul and my thoughts. My artistic journey has allowed me to meet amazing people and showcase my work around Houston, where I know reside.
How did you start making art that empowers people?
I started making art that empowers people when I realized art was my gateway to peace. I figured if art makes me feel good, I would share my art in the form of a message to others to make them feel good about their existence.
What do you do to self-care?
For self care, I meditate and take time to process my thoughts and mentally give myself a mind bath. I also like to pamper myself by taking long tea baths, drinking hot tea, and unplugging from social media at least once a week.
SHOP DESIGNS BY PINKLOMEIN