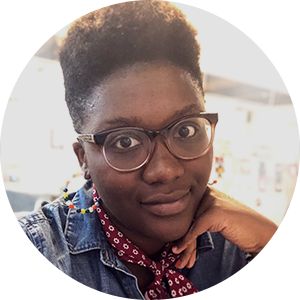 Sharee Miller AKA Coilyandcute is a Black illustrator and author originally from the Virgin Islands. She creates vibrant colorful artwork that celebrates and promotes self-love and joy. She is a night owl and loves to stay up drawing with her two cats Pumpkin and Spice. She is the author and illustrator of picture books such as Don't Touch My Hair.
How did you start making art that empowers people?
I started creating art as a way to empower myself and my community. Growing up I struggled to find images that I could identify with. Representation of black women has always been lacking or one dimensional. Black women are often portrayed as strong or angry and even though its reasonable for be angry when you always have to be strong, I wanted to show how versatile we can be. We can be soft; we have joy and we need self-care as much as everyone else. I want people to look at my work and feel empowered to be their authentic selves and not feel like they have to fit into a mold that society has made for them.
What do you do to self-care?
My main form of self-care is therapy. Having an unbiased perspective on what's on my mind helps me contextualize and process my emotions in a healthy way. I also love getting out into nature for walks and exploring new places, cooking, hanging out with friends and calling my mom.
SHOP DESIGNS BY SHAREE MILLER