Our Vision for
World Kindness Day
A Vision For World Kindness Day 2020
Happy World Kindness Day!!
Today we celebrate one of humanity's most delightful superpowers: kindness. At Self-Care Is For Everyone, this is one of our FAVORITE days. So much so that we intentionally decided to launch our online storefront on World Kindness Day two years ago!
Have you never thought about kindness as a superpower before? Just imagine it: around the world, acts of kindness help us to feel connected when we are lonely, offer tenderness to comfort our fear, or encourage us when we feel insecure. Gestures of kindness might seem small in a world so big and in so much pain, but consider the last time you experienced a moment of kindness: what did you feel in your body? How did it change your thoughts? What did it inspire for you?
Receiving kindness can change our mood, outlook on a situation, or inspire us to share kindness with others. Multiply that by almost 8 billion people (and many times a day) and suddenly the impact of those small acts of kindness becomes extra-extraordinary.
See? Superpower. Told you it was one of our favorite days.
Self-Care Is For Everyone Turns Two!
The sharing of kindness is foundational to our mission and our work. It informs everything from the reminders we spread to the way we speak with one another in our team meetings. We know that one of the most powerful things we can do — especially now — is to create and spread more kindness in the world. When we choose to respond to ourselves, our fellow humans, and the planet with kindness, we create new possibilities for a healthier and more loving future.
Two years ago today, we opened up the (virtual) doors to our online storefront (www.selfcareisforeveryone.com). We chose to launch on World Kindness Day in order to to have our birthday serve as a reminder to us and our entire community of the power of amplifying kindness in the experiences where it can often be the hardest to find: mental health struggles, loneliness, stress, and feelings of insignificance. We dreamed of a future where everyone — regardless of their identity, economic status, or background — was afforded the same right to community, empathy, and the opportunity to heal so that they may thrive.
We envision a future where everyone is aware of their inherent self-worth, conversations around mental health are normalized, and individuals know that they can reach out for help when needed. In this world, everyone is encouraged to feel their feelings, resources are accessible to anyone in pain, and individuals will choose self-care over self-harm.
Our Instagram, @selfcareisforeveryone, started as a platform and community gathering space to share self-care tips and reminders of kindness. We have featured artwork from a wide range of independent artists and insights from diverse therapists and healers. And around the world, you responded, uniting behind a message of kindness — to ourselves and others — and to the need to cultivate healing spaces for destigmatizing conversations about mental health.
We had no idea just how needed these messages were, or how much of an impact they would have whenever you wear them out and spread the message with any and all folks that cross your path. Have you read some of these reviews??
In honor of it being both World Kindness Day and our 2nd Birthday, we thought it would be neat to team up with one of our original artist collaborators, Natalie Dormady aka @LITTLEARTHLINGS! She is the artist behind one of the most popular pieces on our site, our 'You Are Enough' sweatshirt, which went absolutely viral online last year after being worn by Debby Ryan . Natalie has also been spreading kindness for years now through the art she regularly shares on her personal Instragram page (link to Littlearthlings). Naturally, when we started brainstorming the topic of World Kindness Day and how we could invite you all in on this celebration, we thought of Natalie and then we thought it would be cool to collaborate once more! Without any further ado, here's the first look at our SCIFE x Littlearthlings World Kindness Day 2020 sticker sheet which will be included in all orders placed today (Friday, November 13th, ending at 3 AM EST / Midnight PST):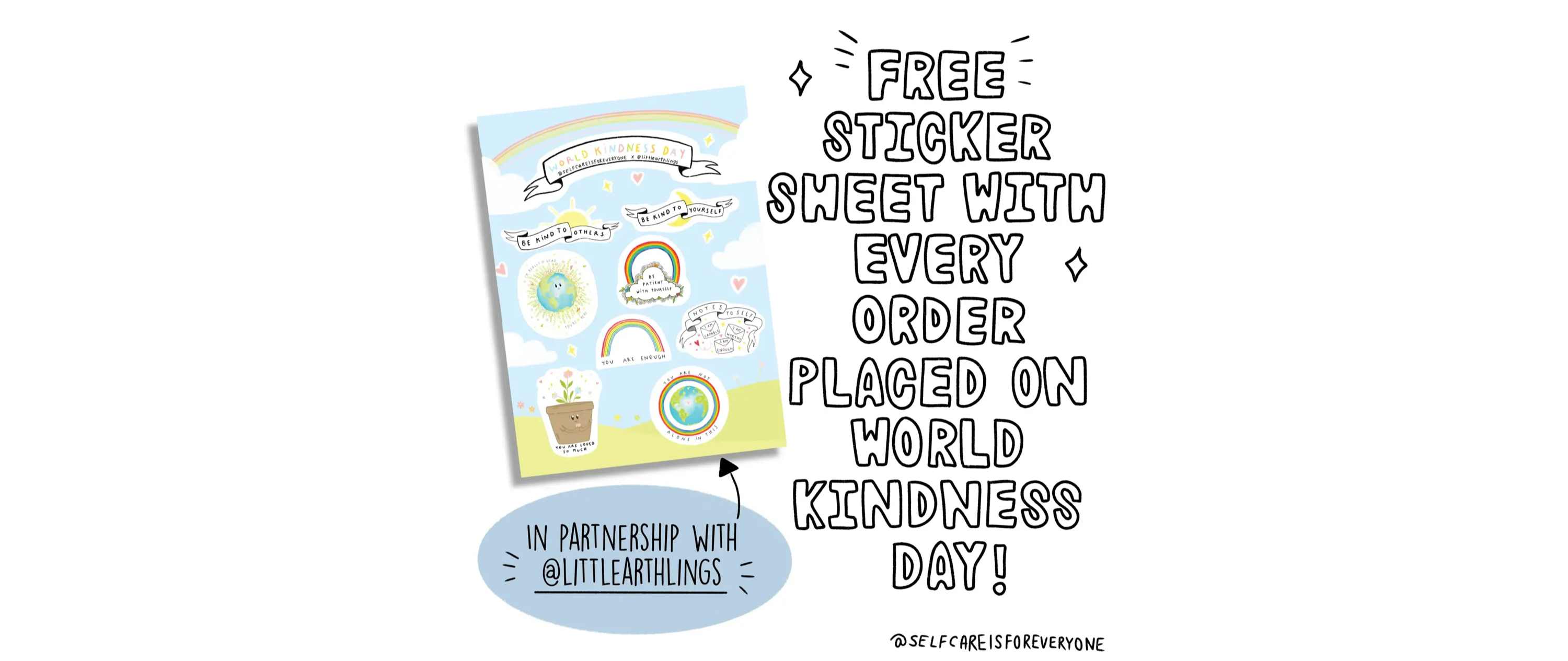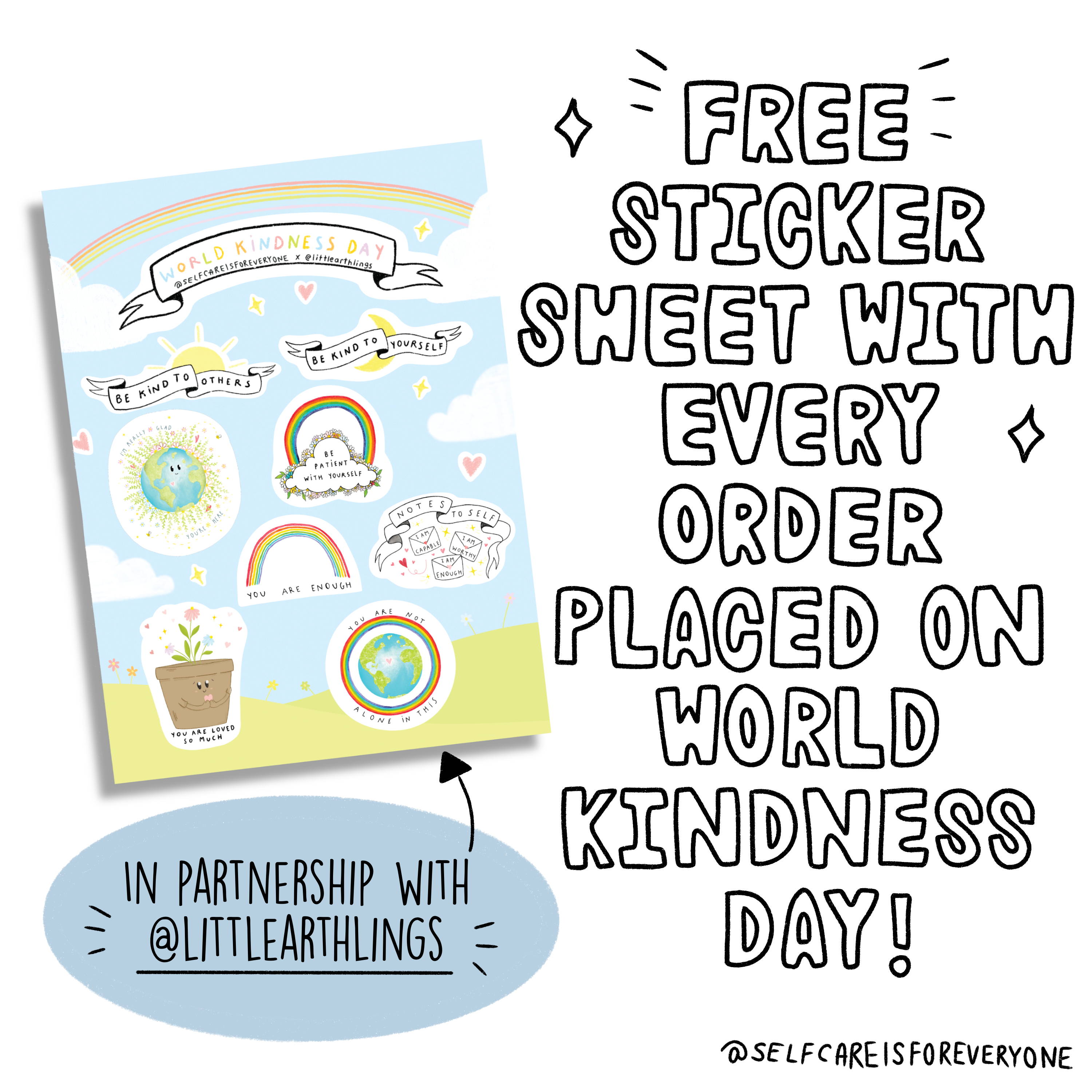 All orders placed today ( on our birthday

😇

) not only help us continue to grow our impact and year-end donation to the National Suicide Prevention Lifeline, but they'll include this exclusive set of kindness reminders you can stick wherever you may need them or wherever you wish to spread them to others. Let's have these beautiful stickers that Natalie designed serve as reminders when we need them to be a little kinder with ourselves and to help spread kindness when we're filled with it.
 
Head over to our full catalogue of sweatshirts  to pick up a reminder and get the free SCIFE x Littlearthlings World Kindness Day 2020 sticker sheet included in your package. Or shop by newest designs on our site if you've supported us in the past and want to see what's new.
Don't feel like looking through the catalogue yet? That's totally okay. We've got one more big surprise gift for you below if you keep reading. Also, it's free and you can access it right away. Keep reading and we'll keep you company.
Kindness starts with self-compassion
Where does it hurt?
When things get hard, this is the question that legendary civil rights activist Ruby Sales says gets right to the heart of the matter. It is a courageous question, one that dissolves the relative comfort of numbness or denial and awakens us to the unguarded experience of living this moment. When we are properly supported (with tools and a feeling of safety), opening to the experience of discomfort can help to decrease a feeling of suffering, increase resilience, and strengthen connections with others in an authentic and meaningful way.
In order to lean into discomfort without doing further harm, however, we must first feel safe. After this rollercoaster of an election season (and, you know, 2020), perhaps the kindest thing we can do to create a sense of safety is to allow ourselves to breathe.
Let yourself breathe, honor, and release
This practice can help to bring you into your body as you feel the steadiness and support of the earth beneath you.
Are you somewhere that you feel safe? If not, could you go somewhere where you feel safe enough to exhale deeply, even if just for a moment? If possible, lay down and allow your body to sink into the ground (if not, settle your feet onto the floor). Bring your attention to the places in your body where the earth rises up to meet you, and consciously invite those places in your body to relax and soften. Can you feel the support of the earth? Can you feel its ancient and enduring strength?
Breathe.
You can stay with this experience, or if your mind is noisy, open your eyes and without moving, quietly name 5 things that you see, then 4 places in the body where you are aware of the floor or chair, then 3 things you can hear, and finally one or two that you can taste or smell.
Breathe.

You are moving through this moment the best way that you know how, and you are not alone.
If sadness, fear, anger, hope, or excitement arises — can you feel a spaciousness that allows them to be there, too? In this moment of stillness and safety, can you allow them to move through you, as you sit or lay, held and supported by the earth? In their wake, you may find the pathway to your wounded-ness, and to your profound capacity for love.
FREE WORLD KINDNESS DAY GIFT TIME! 🎉🎉🎉

Create Space For Play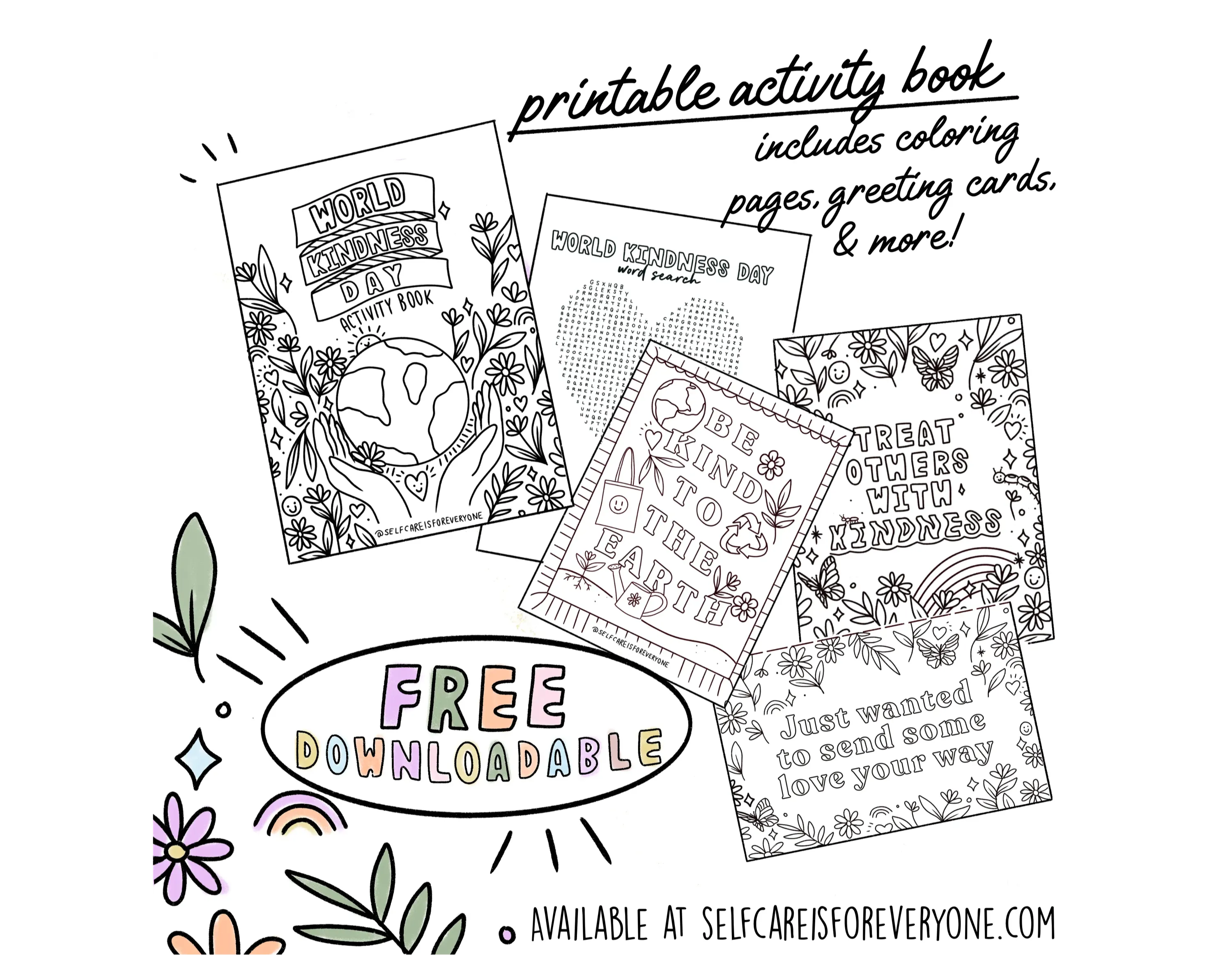 We didn't want you to feel left out of the celebration if right now isn't a good time for you to pick up a reminder from our site. So, what we decided to do was go ahead and create a FREE WKD digital downloadable activity book, complete with kindness-centered activities for you to enjoy and/or share with a friend! And, because we believe that kindness shared begins from kindness within, we also pulled together a few practices to help guide you in sharing kindness toward yourself, including a meditation to create a sense of relaxation and safety in your body that nourishes your nervous system, enabling you to meet your feelings with more kindness, and reflective journal prompts that can help you to create space for play and curiosity.

 

Honestly...if you've gotten to this part of the blog, we're really excited that you want to celebrate World Kindness Day and we really think you're going to love this activity book - especially if you've downloaded one of our previous downloadables  and enjoyed them!

Go ahead and download it by clicking the link above or from this one here and print it out at your convenience or send it to a friend! Remember to take a photo and tag us in your creations on instagram!! @selfcareisforeveryone
The best way to celebrate WKD is by spreading kindness! You can print this out and color the pages for yourself or gift the finished masterpiece to a friend!!
If you enjoy the activities and coloring pages that are included, you can send the activity book as a gift to a friend to spread kindness to them too :)
We've also included FREE printable (and colorable) thank you cards to custom make for your loved ones, postal workers, and healthcare professionals. Sending someone a greeting card during this challenging time can really uplift and change their mood. #spreadkindness
Once you print out this activity book, for the next twenty minutes (or longer) allow yourself to put your phone on Do Not Disturb, or in another room on silent. If you live with other humans, communicate (with kindness) that you will not be available for a little while. Gather your favorite pens, colored pencils or markers, your activity book or notebook, and a cup of your favorite beverage ( water is underrated), and then settle into your favorite space.
Light up a candle or a stick of incense, sit back, and relax into a few moments of silence.
For the next few minutes and beyond, this space is here to serve you. Thank yourself for showing up. Ask yourself what would bring you joy right now. Perhaps you want to follow along with the activities we've put together, or perhaps you feel more drawn to free-drawing, or to follow the journal prompts below. Whatever you choose, if an (unkind) voice pipes up about grocery shopping or work left to do, thank it for its concern and let it know that there will be a time for those things — but now is the time for kindness, curiosity, and play.
Here are some journal prompts for you:
Have you experienced unkind thoughts toward yourself today? Can you rewrite that thought with kindness?

Write down a memory of an act of kindness from a stranger (that you witnessed or experienced) that brought you joy.

What is your favorite way of showing loving kindness to yourself through self-care

What does kindness truly mean to you, for both yourself and for others?

 
Happy coloring and celebrating World Kindness Day!