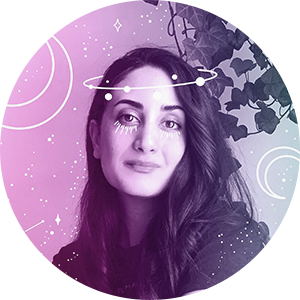 My name is Zulfa Ishak, aka The Cosmic Feminist. I'm an illustrator based in Maryland, USA. My illustrations focus on empowerment, spirituality & feminism. Cosmic Feminism refers to my fascination with the galaxies and support for womxn's rights on a cosmic proportion. The concept of Cosmic Feminism is that we are all one with the universe. This connection is a reminder that we all deserve equal rights & opportunities. We all deserve to be treated with dignity and respect. We all deserve love.
How did you start making art that empowers people?
My empowerment work was born out of vulnerability, and a deep desire to support womxn. I started to create illustrations inspired by my experiences as a WOC, an immigrant, and a human being. I was also inspired by the experiences of the incredible womxn in my life. I then realized that I wanted to merge these experiences with my fascination with the cosmos. This is when The Cosmic Feminist was born.
What do you do to self-care?
Meditation, spending quality time with my family, and taking a break from my phone for at least a full day during the week. All of these things help me reset.
SHOP DESIGNS BY ZULFA ISHAK