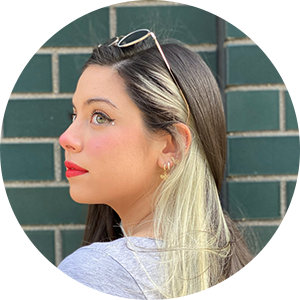 Emilia Grace Escobar (she/her/herself) is a Mexican-American artist based in NYC. Emily grew up playing music and doing musical theatre throughout her childhood. When she moved to attend the Tisch School of the Arts, she saw a need for some positivity and support amongst her peers. She created "Today I Am Loved" in an effort to spread positivity and break the stigma around mental health of youth and young adults. She is now a known mental health advocate for BIPOC and the LGBTQ+ community and works with organizations to make sure everyone's voice is heard and accounted for.
How did you start making art that empowers people?
I started making empowering art a few years ago! It started with texting my friends empowering words of the day, to having a platform for sharing daily messages with over a thousand people, to moving into digital art that I now post on my Instagram @todayiamloved while working with mental health organizations. I knew that what I needed to see when at my lowest was something that was raw and real, not smiley faces and sparkles all the time (although I do love them). I needed to know that I was seen. I needed to know that at the very least, today I am loved.
What do you do to self-care?
Self-care for me is incredibly intuitive! If I feel like I need to lay in bed all day and watch Halloween movies, that's okay. If I feel like I need to go for a walk and then take a hot bath, super cool. I try to listen to my body and follow what I am craving or wanting. This may look like eating McDonalds and candy! No shame or judgement! Just my authentic lil self!
SHOP DESIGNS BY EMILIA GRACE ESCOBAR