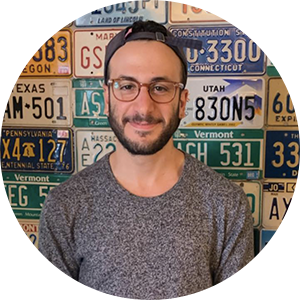 In addition to producing art for Self-Care Is For Everyone, AJ is also a co-founder & the COO on the project. AJ donates 100% of the royalties he receives from sales of his designs each month to a number of different grassroots nonprofit initiatives.
How did you start making art that empowers people?
Over these past few years, I've learned the true meaning and significance of certain vocabulary and acts of self-care, like 'anxiety' and going to therapy. In this process of my own healing and through working to help build up this project, I was inspired to get some reminders across that have helped me on my journey.
What do you do to self-care?
Travel is a major form of self-care for me. I love to get away from my familiar surroundings and treat my eyes to some new visuals. I also love a leisurely hot shower or candle-lit bath, journaling, and sitting in silence.
SHOP DESIGNS BY AJ MARTOFEL